Sleeping Beauty (10/14)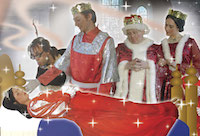 A Music Hall/Music Without Borders Co-presentation
With Support from Maria Fareri Children's Hospital
Another magical performance by the Panto Company! King Humphrey and Queen Bea are so delighted at the birth of their daughter, Aurora, that they throw the biggest party the kingdom has ever seen! However, when they forget to invite the land's most powerful sorceress, Vestra, their happiness soon turns sour. Vestra casts a spell on the baby, proclaiming that on her 18th birthday, she will prick her finger on a spinning wheel and die! The spell is so strong that the comical Fairy Nuff can only reduce its power by declaring that Aurora will fall asleep for 100 years. But how will she be woken?
Donate to Maria Fareri Children's Hospital and receive a coupon code for 2 for 1 tickets to Shopkins Live! on 9/26 or Sleeping Beauty on 10/14 (or both!). Coupon code will be in the donation confirmation email.
We are proud to partner with Maria Fareri Children's Hospital, a member of the Westchester Medical Center Health Network, during its 13th Annual 100.7 WHUD Radiothon For The Kids fundraiser. 100% of funds donated here will benefit Maria Fareri Children's Hospital, which provides children and families from the Hudson Valley and beyond with lifesaving and life-changing services, many of which are offered nowhere else in the region.
CLICK HERE TO DONATE