Sixties Spectacular (12/8)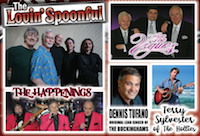 Presented by Praia Entertainment Group, producers of "Pop, Rock & Doo Wopp Live!"
It's a "Sixties Spectacular" starring some of the biggest stars of the era, including multiple Rock & Roll Hall of Fame legends! The Lovin' Spoonful ("Summer in the City", "Do You Believe in Magic?", "Day Dream", "Did You Ever Have to Make Up Your Mind?", "Darling Be Home Soon"), The Vogues ("5 o'Clock World", "You're the One", "Turn Around, Look at Me", "My Special Angel"), Dennis Tufano, the original lead singer of The Buckinghams ("Kind of a Drag", "Hey Baby! They're Playing Our Song", "Don't You Care", "Susan", "Mercy, Mercy, Mercy"), The Happenings featuring original lead singer Bob Miranda ("See You in September", "Go Away Little Girl", "I Got Rhythm") and Terry Sylvester of The Hollies ("The Air that I Breathe", "He Ain't Heavy, He's My Brother", "Long Cool Woman in a Black Dress"). Don't miss this one-night-only reunion of some of the biggest hit-makers of the 60s!