The Psychedelic Furs - The Singles Tour with special guest Bash & Pop (10/6)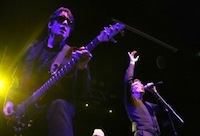 A Music Hall/Music Without Borders Co-presentation
Part of the Franzoso Contracting Rock Series
Special Guest: Bash & Pop
The Psychedelic Furs return to rock the Music Hall!...If you were to dissect the today's alternative rock music, you'll find that much of it pays homage to The Psychedelic Furs. Led by vocalist and songwriter Richard Butler, and his bass-wielding brother Tim, the Furs scored major hits with "Love My Way," "Pretty In Pink," "Heaven," "The Ghost In You," and "Heartbreak Beat" in all releasing seven studio albums, spawning several compilations, a boxed set, and a live concert DVD. Born out of the post-punk UK rock scene, the Furs quickly developed as one of the premiere bands on US College and Modern Rock radio scoring a multitude of #1 singles. With the advent of MTV in the early 80's the band took off into the stratosphere, and when John Hughes' approached the band with his film built around the Furs' song "Pretty In Pink", the band's legacy was cemented. After a brief hiatus in the 90's, and a side project called "Love Spit Love", the band regrouped at the dawn of the new millennium. The Psychedelic Furs touring lineup remains Richard Butler (vocals), Tim Butler (bass), Rich Good (guitar), Mars Williams (saxophone), Amanda Kramer (keyboards), and Paul Garisto (drums). Anything Could Happen is the 2nd album by Bash & Pop, a very welcome and loooong-awaited follow-up to 1992's Friday Night Is Killing Me. The helmsman of the group is one Thomas Eugene Stinson, better known as Tommy of The Replacements - the seminal band of which he was co-founder, bassist and sparkplug. Now, coming off a fruitful 18-year stretch playing bass with stadium rockers Guns N' Roses ("It was good for me on so many levels") and a hugely successful 33-show Replacements reunion romp, Tommy is clearly jazzed to be doing his own thing again.