Southside Johnny & The Asbury Jukes (10/20)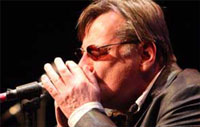 Presented by LofPro
Special Guest: The Burbans
For Southside Johnny and the Asbury Jukes – 'comfortable' has never been a word associated with their brand of raucous, roots-tinged rock and bluesy reverie. The Jukes have more than 30 albums on their resume, thousands of acclaimed live performances across the globe, and a vibrant legacy of classic songs that have become "hits" to their large and famously-dedicated fan base.
"With the Jukes, you're out there every night leading this great rock n' roll circus, giving it everything you've got" says Southside Johnny Lyon.
WHEN I GREW UP I WANTED TO BE A JUKE. I STILL WANT TO BE A JUKE - JON BON JOVI