Randy Newman (7/9)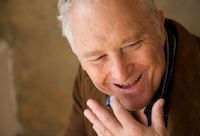 A Music Hall/Music Without Borders Co-presentation
With songs that run the gamut from heartbreaking to satirical and a host of unforgettable film scores,
Randy Newman
has used his many talents to create musical masterpieces widely recognized by generations of audiences. After starting his songwriting career as a teenager, Newman launched into recording as a singer and pianist in 1968 with his self-titled album Randy Newman. Throughout the 1970s he released several other acclaimed albums such as: 12 Songs, Sail Away, and Good Old Boys. In addition to his solo recordings and regular international touring, Newman began composing and scoring for films in the 1980s. The list of movies he has worked on since then includes The Natural, Awakenings, Ragtime, all three Toy Story pictures, Seabiscuit, James and the Giant Peach, A Bug's Life, and most recently, Disney/Pixar's Monsters University, the prequel to Monsters Inc. (which he also scored). The highly praised 2008 Harps and Angels was Newman's first album of new material since 1999. The Austin Chronicle wrote "the characters are memorable, the satire sharp, the music luxurious, and the arrangements maybe the most gorgeous in all pop music."
Special Members-Only Event:

Music Hall Members attending the show are invited to join us for a pre-show party upstairs in our new Studio Space from 5:45pm – 6:45pm. We'll be serving coffee, sparking wine, and an array of artisanal treats, sponsored by our friends at Coffee Labs Roasters and Red Barn Bakery.

Please RSVP to: members@tarrytownmusichall.org for further info.