Colin Hay - Former Lead Singer of Men at Work (10/22)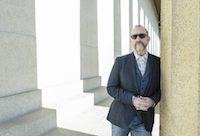 A Music Hall/Music Without Borders Co-presentation, supported by WFUV
Special Guest: Chris Trapper
While Colin Hay's voice and visage are familiar to millions as front-man, songwriter, and vocalist of pop sensation Men at Work ("Down Under", "Overkill", "Who Can it Be Now?"), the past ten years have found him re-introducing himself to a new generation of fans. The frequent use of his music in TV and film—including hit shows such as Scrubs (on which he has made several cameo appearances) and Army Wives, the hit sound track to the film Garden State and the recently released Morning Glory—has proven the timeless appeal of his songs: quizzical, curious, cynical yet open-hearted. FIERCE MERCY is an epic, cinematic step forward from singer-songwriter Colin Hay, most beloved for his intimate, confessional live shows but most widely known for being an influential and celebrated frontman. The range of artists who have chosen to cite him as a muse or who have found themselves on stage with him in the past year spans the genre landscape from heavy metal, to Americana, to Cuban rhythms and beyond. His inclusion as a playlist favorite from the likes of Metallica to The Lumineers reflects his continuing relevance and broad appeal.