Pop, Rock & Doo Wopp Live! (9/16)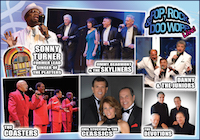 Presented by Praia Entertainment Group
Pop, Rock & Doo Wopp Live! returns to Tarrytown Music Hall for the 6th time with a mix of your favorite artists "back by popular demand" and artists who haven't graced the Tarrytown stage in many years. Since Sonny Turner (the former lead singer of The Platters) took the stage here in 2015, it's been one call after another for his return, and so he's back, flying in all the way from Las Vegas to sing all the Platters' hits ("Only You", "Twilight Time", "My Prayer", "Smoke Gets in Your Eyes", "The Great Pretender", "The Magic Touch", "With this Ring", "I Love You 1,000 Times"). Sonny is the only living vocalist to have sung with the original Platters and the last remaining singer from the 1959 line-up that recorded and performed worldwide through the entirety of the 1960s. Sonny will be joined by the "clown princes of rock and roll", The Coasters ("Yakety Yak", "Searchin'", "Charlie Brown", "Poison Ivy", "Young Blood"), Danny & the Juniors featuring Joe Terry ("At the Hop", "Rock & Roll is Here to Stay", "Sometimes"), Jimmy Beaumont & the Skyliners ("Since I Don't Have You", "This I Swear", "Lonely Way", "Pennies from Heaven", "It Happened Today"), Emil Stucchio & the Classics ("Till Then") and The Devotions ("Rip Van Winkle").