River Journal Presents: "Aging - a Bad Rap" A one-man show written and performed by Robert Bonvento (3/26)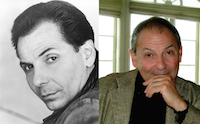 Presented By River Journal
Prior to founding River Journal Robert Bonvento worked professionally on both coasts in theatre, television and film as an actor and writer. On Sunday, March 26th at 2 pm he will be performing a benefit performance of, "Aging - a Bad Rap©." The performance reflects on the lives of ten people ranging in age from 6 to 103 years old. "Aging - a Bad Rap©" melds the spoken word with music, dance, photography and videography. It is a show about the perceptions and realities of growing older. It is touching and comedic. It is significant and unpredictable.
Excerpt from "Aging - a Bad Rap©" - So let's continue rhyming and let's not check our timing… 'cause not everything in life makes sense. What matters is gettin' off that fence. You may be 60, 70, 80 or damn near out the door. It's just a number nothin' more. What you do determines the score!

Proceeds from this benefit performance will go to Hope's Door, a non-profit organization in Pleasantville, NY, whose motto is "Embracing Life Free From Domestic Abuse."

Regeneron, National Resources (Hudson Harbor), Phelps Hospital Northwell Health, Sunnyside Federal Bank and HR Hudson are sponsoring the performance.