Son Volt (4/9)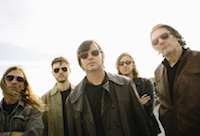 Part of the Franzoso Contracting Rock Series
A Music Hall/Music Without Borders Co-presentation, supported by WFUV
Special Guest: Anders Parkers
Seminal band Son Volt Led by the songwriting and vocals of Jay Farrar, was one of the most instrumental and influential bands inlaunching the alt.country movement of the 1990s. A movement that was the precursor to what is now widely referred to as Americana. They've announced the February 17, 2017 release of their new album, Notes Of Blue (Thirty Tigers). The 10 songs on Notes Of Blue are inspired by the spirit of the blues, but not the standard blues as most know it. The unique and haunting tunings of Mississippi Fred McDowell, Skip James and Nick Drake were all points of exploration for Farrar for the new collection. Whether you call it alt.country, Americana, roots rock, insurgent country or just good ol' rock n roll, musical trends appear and disappear on regular basis. Notes of Blue is a testament to the legacy of inspiration and creative spirit that Jay Farrar and Son Volt continue to uphold.