Loretta Lynn (4/22)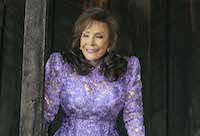 A Music Hall/Music Without Borders Co-presentation, supported by WFUV
Special Guest: Emmy Rose
We are thrilled to welcome back country music icon Loretta Lynn. For over 55 years now, Loretta Lynn has fashioned a body of work as artistically and commercially successful—and as culturally significant—as any female performer you'd care to name. An honest-to-goodness American icon, she is the proud owner of ten #1 albums, sixteen #1 singles, four Grammy Awards, seven American Music Awards, twelve Academy of Country Music Awards and eight Country Music Association Awards. Her music has confronted many of the major social issues of her time, and her life story is a rags-to-riches tale familiar to pop, rock and country fans alike. In 1972, she became the first female artist to win the Country Music Association's coveted Entertainer of the Year award. Now a member of the Country Music and Songwriters Halls of Fame, she received the Grammy Lifetime Achievement Award in 2010. In all, she has sold more than 45 million albums, worldwide. In 1976, Lynn penned "The Coal Miner's Daughter," making her the first woman to write a best-selling autobiography. In 1980, Universal Pictures released a movie by the same name, which would later earn an Academy Award for Best Actress (Sissy Spacek).