Tommy Emmanuel - "It's Never Too Late Tour" (3/4)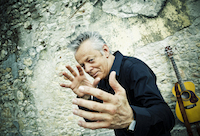 A Music Hall/Music Without Borders Co-presentation
Special Guest: Joe Robinson
One of the finest guitar players of our generation, Tommy Emmanuel returns after a sold out appearance 2015! Give a listen to "Old Photographs," the closing track on Tommy Emmanuel's It's Never Too Late and you'll hear the distinctive squeak of finger noise as he runs his hands across the frets of his Maton Signature TE guitar. Many musicians would edit those imperfection's out, but to Emmanuel, those imperfections are perfect. A master technician, Emmanuel started professionally at age 6, rising through the ranks as a studio player and member of several Australian rock bands before he set off on a solo career. One of only five musicians handpicked by his mentor, Chet Atkins, as a Certified Guitar Player (CGP), he's piled up numerous accolades, including two Grammy nominations, two ARIA Awards from the Australian Recording Industry Association (the Aussie equivalent of the Recording Academy) and repeated honors in the Guitar Player magazine reader's poll. A noted fingerstyle guitarist, Emmanuel frequently threads three different parts simultaneously into his material, operating as a one - man band who handles the melody, the supporting chords and the bass all at once. His talents, which translate in any language, carry him to the far corners of the globe, but Emmanuel never plays the same show twice, and he improvises big chunks of every date.
Opening act is Twenty-five-year-old Australian Joe Robinson who is considered uniquely gifted as a virtuoso guitarist and singer/songwriter. He walks a tightrope between the instrumental music that has put him in the spotlight and a unique fusion of vocally based rock, blues, jazz, and R&B that is entirely his own. Born in the backwoods of Temagog, on the mid-north coast of New South Wales, Australia, his six-string ability and compositional insight have already earned him a worldwide following.