An Evening with Mike Gordon (4/4)
Loading Results....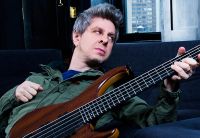 A Music Hall/Music Without Borders Co-Presentation
Phish bassist Mike Gordon tours in support of his fourth solo studio album, Overstep, was released February 25th on ATO Records. Most artists have a fixed ritual or routine that they rely on to inspire their efforts from concept to fruition. Gordon tends to establish general goals, and then eschew routines for creative experiments. One of his goals for Overstep was to trust himself to relinquish control, which he accomplished by sharing songwriting duties with guitarist and longtime collaborator Scott Murawski, and by handing over the producing reins for the first time in his solo career to Paul Q. Kolderie (Radiohead, Uncle Tupelo, Pixies). The result is a diverse but tightly knit family of sturdy rock numbers that manages to sound grounded but sophisticated at the same time, and raw but carefully considered.