Punch Brothers (3/30)
Loading Results....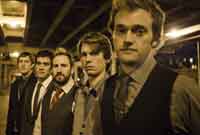 A Music Hall/Music Without Borders Co-presentation, supported by WFUV
Special Guest: Aoife O'Donovan
Punch Brothers, the NYC-based quintet of mandolinist Chris Thile, guitarist Chris Eldridge, bassist Paul Kowert, banjoist Noam Pikelny and violinist Gabe Witcher. Their most recent album, Who's Feeling Young Now?, produced by Jacquire King, contains some of the most exhilaratingly direct, sonically daring performances the group has ever recorded. Vanity Fair has hailed the album as "their most expressive work yet as an ensemble; sophisticated, pop-y, kinetic and profound, all at once." As the members have matured together on the road and in the studio, their approach to writing and performing has become looser, simpler and more unaffectedly youthful.