2020 Show Your Love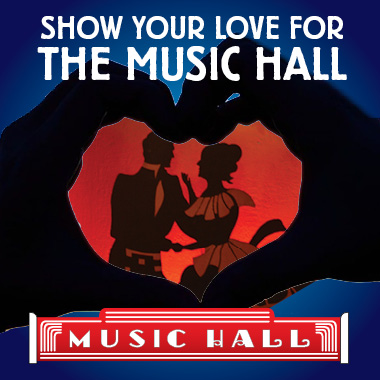 YES, I will support The Music Hall!
This February we celebrate The Music Hall's anniversary of being saved from the wrecking ball. Our historic theater was nearly demolished to make way for a parking lot. Happily, our story has a very different ending.
On February 14, 1980, two local residents, Helen and Berthold Ringeisen, were convinced that the historic theater, built in 1885, was important for the community. They bravely placed their home & life savings as collateral to purchase the theater and establish it as a nonprofit center for the performing arts. It has been a labor of love ever since.
Today, The Music Hall is one of the busiest theaters in the region offering the best in music, theater, dance and film. It also offers theater arts education opportunities for young people and provides community outreach efforts to make the arts accessible to diverse audiences. The Music Hall attracts well over 85,000 people on an annual basis from all over the Tri-State area making the theater an economic engine that pumps millions into the local economy annually from patrons who visit the local restaurants, shops, and historic attractions.
Saving The Music Hall has proved, indeed, to be important for the community!
Ticket sales only cover a portion of the theater's annual operating costs. Your support is essential to ensuring the long-term success of The Music Hall and the new Music Hall Academy.
Show Your Love. Make a Donation Today.
Looking to make an even bigger impact? Contact Sheila Emery Murphy, Director of Philanthropy, at 914-631-3390 x115 or smurphy@tarrytownmusichall.org for information about charitable contributions, naming opportunities, gifts of stock, bequests, or planned giving.