Education Fund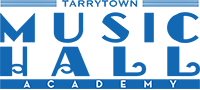 The Music Hall, a nonprofit organization, provides educational programs such as school residencies, youth theater productions, camps, classes, music lessons, master classes and seminars to children in grades 1 through 12 on a year round basis. It also annually contributes $4000 towards the Sleepy Hollow High School Performing Arts Award and provides local arts organizations with discounted space, creating additional performing arts opportunities.

We believe that arts education should be available to everyone, regardless of financial limitations and therefore offer free school residencies and a Pay-What-You-Can scholarship program.

Your generous support is CRITICAL for the sustainability of the Academy programs and enables us to continue inspiring and sharing the magic and joy of the performing arts with young people.

The Academy's programs and scholarships are generously supported, in part, by:

ArtsWestchester
The Educational Foundation of America
The Kids' Club of the Tarrytowns
The Tammy & Keith Anderson Foundation
The Tarrytown & Sleepy Hollow Farmer's Market (TASH)
The Westchester Community Foundation