CANCELLED the FIXX & The English Beat (11/4/21) VACCINATED PATRONS ONLY SHOW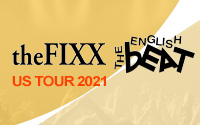 Ticket prices: $45 - $65
THIS SHOW HAS BEEN CANCELLED
ALL TICKET HOLDERS WILL BE REFUNDED
Presented by The Music Hall, supported by The Peak
The Fixx has been often heralded as one of the most innovative bands to come out of the MTV era. The style and substance of the band has always created a special connection with its audience. The Fixx's themes are often complex, introspective and thought-provoking and it's also been mass appeal with three #1 hits, five in the Top Five, a dozen reaching the Top Ten and millions of albums sold worldwide. Songs such as "One Thing Leads To Another", "Red Skies" and "Saved By Zero" remain everyday staples on the playlists of the radio stations that continue to break new acts inspired the era that The Fixx helped to define. It is rare for an audience to experience a band that has continued to thrive for three decades. The Fixx were then, and still are - Cy Curnin on vocals, Rupert Greenall on keyboards, Jamie West-Oram on guitar, Adam Woods on drums, and bassist Dan K. Brown.


The English Beat is a band with an energetic mix of musical styles and a sound like no other. The band's unique sound has allowed it to endure for nearly three decades and appeal to fans, young and old, all over the world. When The English Beat (known simply as The Beat in their native England) rushed on to the music scene in 1979, it was a time of massive social and political unrest and economic and musical upheaval. This set the stage for a period of unbridled musical creativity, and thanks in large part to the Punk movement and it's DIY approach to making music, artists like The Beat were able to speak out and speak their mind on the news of the day, as in "Stand Down Margaret", things that mattered to them and the youth culture, as in "Get A Job", and universal matters of the heart and soul, as in their classic hits "I Confess" and "Save It For Later".

Vaccinated patrons only-show/Masks Required:
Anyone unable to show proof of full vaccination will not be admitted to this event. A full refund will be issued. In accordance with NY State guidelines, valid proof of vaccination are: NY Excelsior Pass, vaccination card (digital copy acceptable). A valid personal ID may be requested as well.

Subject to COVID-19 regulations in force at time of event.