Jann Klose (6/13/21)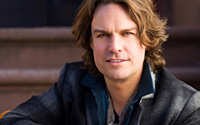 Now With Limited, Socially-Distanced Ticketed Seating
Free Livestream Broadcast via Facebook & YouTube
Fundraiser. Donations Welcome.
Jann Klose is an award-winning* pop singer-songwriter, who has released six albums and two EPs. Klose was raised in Kenya, South Africa, Germany and the United States. His latest single "Love You the Most/Te Amaré Más" is part of the soundtrack for the movie "Married Young" (Amazon) and has been streamed over 3 million times.
His newest single "Pilot Light" passed 1 million views on YouTube in just one month. Jann is an ambassador for Desmond Tutu's TutuDesk campaign and Brick by Brick Uganda. He is the singing voice of Tim Buckley in the movie "Greetings from Tim Buckley" (Universal). His songs have been heard on the Grammy® nominated "Healthy Food For Thought" compilation, charted in the Billboard Top 10 compilation "Action Moves People United" as well as MTV Cribs and movies "Dead Broke" (Warner Bros) featuring Paul Sorvino and "One Little Finger" alongside Quincy Jones, Siedah Garrett and Julian Lennon. He has performed as an actor and singer in touring companies of Broadway musicals, including "Jesus Christ Superstar," "Jekyll and Hyde," and "The Who's Tommy" as well as made for TV movies, voice overs and commercials.
Jann tours year round in North America, Europe, Africa and Asia and has opened for and collaborated with a wide range of artists including Pat Benatar, John Oates of Hall and Oates, Suzanne Vega, Renaissance's Annie Haslam, The Yardbirds and Jim McCarty, Rosanne Cash, Paula Cole, Brett Dennen, Karen Zoid, Shekhinah, Carrie Newcomer, Alicia Madison, The Byrds' Roger McGuinn, Gary Lucas, Jeffrey Gaines, Elliott Murphy, Rusted Root, Pete Seeger and Les Paul.
*Recipient of 4 Independent Music Awards, Grammy® nomination "Healthy Food For Thought" compilation.
For tickets to the free livestream,
please click here
.
To support this special livestream performance,
please click here
.
Thank you to Meryl Allison for being a Music Hall Angel.
For more info on how to become an Angel,
click here
.