Virtual Ghost Tours of The Music Hall (10/16 - 10/31)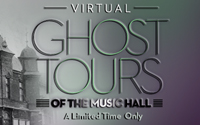 THIS EVENT IS VIRTUAL. TOUR LINKS AND PASSWORDS WILL BE EMAILED 1 HOUR PRIOR TO YOUR SCHEDULED TOUR.
Unexplained happenings and paranormal activity have been experienced at our 135-year-old historic theater. Lights mysteriously turning back on after closing. The eerie sound of an unknown singer performing vocal scales in the wings after hours. High-profile artists refusing to stay in one particular dressing room because they "sensed a presence." Who or what could be the cause? Join us for a virtual "balcony to backstage" guided ghost tour to learn more about what we've discovered about the secrets of our theater, its intriguing history and the ghostly guests who still linger…
Gotham Paranormal Research Society
has investigated our theater several times. They revealed fascinating findings about the paranormal activity at our theater, including intriguing EVP (electronic voice phenomena) audio files and EMF (electromagnetic field) readings that synch up with known 'hot spots' in our theater. The Music Hall is also an official site on the
Haunted History Trail of New York State
.
Ticket holders will receive a special email with a password protected link to view the Virtual Ghost Tour at 8pm on the event date selected. Ticket sales close at 7pm each evening between October 16 – October 31 during this limited engagement. Tickets: $10.
Virtual Ghost Tour of The Music Hall - Official Trailer:
All ticket proceeds benefit our historic, nonprofit theater. We also welcome Music Hall Memberships, and charitable donations to help us withstand our extended closure. Sponsorship for the Virtual Ghost Tours, and other Music Hall programs are still available. For information about our Virtual Ghost Tours of The Music Hall or to be added to a wait-list for when we're able to resume in person ghost tours contact Sheila Emery Murphy at smurphy@tarrytownmusichall.org.