Rivertown Dance Academy Festival 2020 (6/24 - 6/26)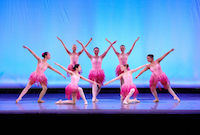 THIS SHOW WAS POSTPONED FROM 3/27 - 3/29/20.
Presented by Rivertown Dance Academy
The Rivertown Dance Academy Festival showcases the accomplishments of our students, from the young children in Creative Movement through the advanced teen and adult students in ballet, jazz, modern dance, theatre jazz, tap, and hip hop. We hope you will join us to experience the transformation of practice to performance: our 2020 Festival! Dance brings us together as a community to celebrate both our individual expertise and our collective joy. Whether you are a member of our Rivertown Dance Academy community, know a student performer, or have sought out a local family-friendly pre-professional performance, we are delighted to welcome you to our 2020 Festival!
Rivertown Dance Academy is a 501(c)(3) nonprofit organization. RDA was founded on the belief that everyone, regardless of ability to pay, should have the opportunity to pursue high-quality and comprehensive dance education. RDA is accessible in location, literature, and in ability to provide need-based financial aid.

Due to unforeseen circumstances these shows were postponed from 3/27 -3/29/20 to 6/24 - 6/26/20. Tickets will be honored on the new date. If you are unable to attend the new date, please email tickets@tarrytownmusichall.org with your order number to receive a full refund.