Colin Hay ( 4/7/22)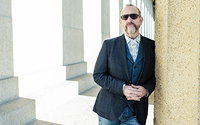 Presented by The Music Hall, supported by WFUV
While Colin Hay's voice and visage are familiar to millions as front-man, songwriter, and vocalist of pop sensation Men at Work ("Down Under", "Overkill", "Who Can it Be Now?"), the past several years have found him re-introducing himself to a new generation of fans. The frequent use of his music in TV and film—including hit shows such as Scrubs (on which he has made several cameo appearances) and Army Wives, and the hit sound track to the film Garden State—has proven the timeless appeal of his songs: quizzical, curious, cynical yet open-hearted.
Tickets will be honored on the new date. If you are unable to attend the new date, please email tickets@tarrytownmusichall.org with your order number to receive a full refund.