SHIFF 1st Annual Sleepy Hollow International Film Festival VIP Passes (10/10 - 10/13/19)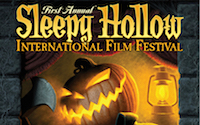 Presented by
Sleepy Hollow International Film Festival
Sleepy Hollow International Film Festival is a celebration of outstanding genre cinema in the historic cradle of the American Supernatural, showcasing NEW FEATURE FILM PREMIERES, SPECIAL ANNIVERSARY SCREENINGS, LIVE ON-STAGE EVENTS, IN-PERSON GUESTS AND MORE!
Full line-up and schedule will be announced soon but early VIP PLATINUM PASSES and GOLD PASSES, which include ALL of our Music Hall events (featuring the ones listed here and still many more to be announed), are available now.

Individual Tickets will be available in the future, but purchasing VIP PLATINUM and GOLD PASSES now is the best way to ensure you experience as much of the entire festival as possible.

VIP PLATINUM PASSES and GOLD PASSES also include free access to additional, to-be-announced films and live panel programming at our WARNER LIBRARY venue.

Additional fest info and updates at www.sleepyhollowfilmfest.com.

VIP PLATINUM PASS $375 - Limited Amount!
Includes ALL Music Hall venue events
Reserved section seating
1st Entry to all events
Attendance at Opening Night Reception
1st Free Access to Warner Library venue events
Limited Edition SHIFF Enamel Pin and T-Shirt
Official SHIFF 2019 poster
Festival Tote Bag

GOLD PASS $235 ($275 after Sept 10)
Includes ALL Music Hall venue events
2nd Entry to all events
2nd Free Access to Warner Library venue events
Official SHIFF 2019 poster
Festival Tote Bag

CHILDREN'S PASS (Ages 13 and under) $95*
Includes ALL Music Hall venue events (except NEVERMORE and PLAN 9)
Free Access to Warner Library programming
Official SHIFF 2019 poster
*Children with Children's Pass must be accompanied by a VIP or GOLD pass-holding, adult guardian to all shows.

Tarrytown Music Hall SHIFF program includes these exciting events:
(NOTE: Opening and Closing Night Films and MORE - still to be announced)

SPECIAL SCREENING: D23 - The official Disney Fan Club celebrates the 70TH ANNIVERSARY OF THE LEGEND OF SLEEPY HOLLOW. A rare, big-screen showing of the classic 1949 animated short, and more, with guest speakers.

LIVE STAGE EVENT! NEVERMORE: An Evening with Edgar Allan Poe
Renowned actor Jeffrey Combs (RE-ANIMATOR, STAR TREK, THE FRIGHTENERS) performs his acclaimed one man show on 10/12/19. Combs' astounding portrayal of Poe has been hailed by The L.A. Times as "A landmark performance," and NEVERMORE has enthralled audiences across North America, with critically heralded shows in Los Angeles, Montreal, Baltimore and NY's Lincoln Center. Directed by Stuart Gordon and written by Dennis Paoli.

U.S. PREMIERE SCREENING: PHANTOM OF WINNIPEG
A phantastic feature-length documentary chronicling the unique 40+ year obsession the inhabitants of Winnipeg, Canada, have had with the Brian DePalma cult film PHANTOM OF THE PARADISE. Wickedly entertaining and surprisingly heartfelt, this savvy doc features appearances by Winnipeg locals, original PHANTOM OF THE PARADISE stars Paul Williams and Gerrit Graham, producer Edward R. Pressman, filmmaker and pop culture guru Kevin Smith and more! In-person Q&A with the filmmakers, producer Edward R. Pressman (PHANTOM OF THE PARADISE, THE CROW, WALL STREET, AMERICAN PSYCHO) and more to be announced.
Trailer

SPECIAL SCREENING: PHANTOM OF THE PARADISE
The original, classic 1974 Brian DePalma cult film sensation, starring William Finley, Paul Williams, Jessica Harper and Gerrit Graham, rocks the Music Hall in all its explosive, rock-infused glory. In person Q&A with stars Paul Williams, Gerrit Graham, producer Edward R. Pressman and more to be announced.
Trailer

LIVE STAGE EVENT! DANA GOULD PRESENTS "PLAN 9 FROM OUTER SPACE"
Legendary comic Dana Gould leads a knockout comedy cast, including Scott Adsit, Jeffrey Combs, Frank Conniff, Bobcat Goldthwait, Jean Grae, Paul Greenberg, John Hodgman, Jonah Ray, G. Charles Wright, Janet Varney and Kathryn Aagesen in a rollicking, one-of-a-kind, live reading of Ed Wood's infamous "PLAN 9" screenplay. With live music by Eban Schletter.

20TH ANNIVERSARY SCREENING: TIM BURTON'S SLEEPY HOLLOW
A special screening of director Tim Burton's wild, visually euphoric 1999 take on the immortal Washington Irving tale, starring Johnny Depp, Christina Ricci and Christopher Walken.
Trailer

EAST COAST PREMIERE SCREENING: MAKING APES: THE ARTISTS WHO CHANGED FILM
An exciting, eye-opening feature length documentary about the Hollywood artists who created the iconic makeups seen in the original 1968 classic PLANET OF THE APES and their important impact on cinema. Features interviews with makeup artists and actors from the original film franchise, modern makeup artists and filmmakers, including Guillermo Del Toro, John Landis and Joe Dante, who were deeply influenced by the franchise. In-person Q&A with director William Conlin.
Trailer

SPECIAL PRESENTATION: A SALUTE TO DARK SHADOWS - In 1970-71, Sleepy Hollow and Tarrytown were original locations for the theatrical films HOUSE OF DARK SHADOWS and NIGHT OF DARK SHADOWS, with local Lyndhurst Estate doubling as the iconic Collinwood Mansion, home of TV's first family of Goth. Jim Pierson, longtime curator of the franchise and producer of the documentary MASTER OF DARK SHADOWS, and other guests, dig deep into the private archives of Dan Curtis Productions to present a never-before-seen look behind the "screams" of the durable movies based on the iconic TV series.


25TH ANNIVERSARY SCREENING: THE CROW
A special screening of the acclaimed and influential 1994 gothic cult hit directed by Alex Proyas, starring Brandon Lee and Ernie Hudson, based upon the the James O'Barr comic. In-person Q&A with co-screenwriter David J. Schow and renowned producer Edward R. Pressman
Trailer

MIDNIGHT MADNESS! 35TH ANNIVERSARY SCREENING: FRIDAY THE 13TH PART IV - THE FINAL CHAPTER
A late-night screening of the infamous 1984 sequel within the immortal horror franchise that saw the iconic Jason Vorhees meeting his... end? In-person Q&A with legendary FRIDAY THE 13TH composer Harry Manfredini.
Trailer

MORE MUSIC HALL VENUE FILMS and EVENTS to be announced!
(All of which will be included, in addition to all currently listed above, with any VIP PLATINUM PASS and GOLD PASS purchases).