The Lords of 52nd Street - Legends of The Billy Joel Band (4/26/19)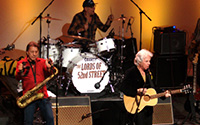 A Music Hall/Music Without Borders Co-presentation
The Lords of 52nd Street are Billy Joel's original band.. They do not need to copy or reinvent the original music, since they are the guys you saw playing at Madison Square Garden, Carnegie Hall, Nassau Coliseum and the countless other venues during those Billy Joel concerts of the 1970's and 1980's. The Lords of 52nd Street are the legendary bandmates who recorded and toured the world for many years with the "Piano Man." They helped to create one of the most recognizable sounds in music recording the sax, drum and guitar solos on over 150 million albums sold with Billy Joel as well. The band is led by Richie Cannata on tenor saxophone, Liberty DeVitto on drums and percussion, and Russell Javors on rhythm guitar. Their collaboration helped change the face of music. They have worked individually with multi-platinum artists, lending their talents to some of the greatest musicians in the world. After 30+ years the band has finally reunited, and haven't missed a step with this mind blowing show. Critics love them and their performances have been blowing away fans of all ages.