POSTPONED Tarrytown Fred Astaire Dance Studio "Dancespiration" (1/19/19)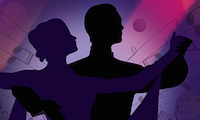 DUE TO THE EXPECTED INCLEMENT WEATHER, THE TARRYTOWN FRED ASTAIRE DANCE STUDIO PERFORMANCE SCHEUDLED FOR 1/19/19 AT 8PM WILL BE POSTPONED TO A LATER DATE.
Presented by Tarrytown Fred Astaire Dance Studio
Christmas is over and so is New Years. There's nothing much going on…or so you think! Happy January 19th! It's time for "Dancespiration". Each year the students and teachers of the Tarrytown Fred Astaire Dance Studio celebrate the magic of ballroom dance with an extravaganza of foxtrots, salsas, rumbas and show dances. This year's show - "Dancespiration" - has been created by three award winning choreographers and inspired by the world music legends of many decades and generations - like Frank Sinatra, Aretha Franklin, Elvis Presley, Michael Jackson, Beyonce, Lady Gaga and many more!!!

So, come along with us on this journey. It will be a night to remember!