The Milk Carton Kids (2/24/19)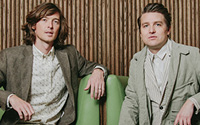 Tickets go on sale for Premium Members on 11/26 at 12:00 PM EST, Members on 11/27 at 12:00 PM EST and for Non-Members on Friday, November 30, 2018 at 12:00 PM EST
A Music Hall/Music Without Borders Co-presentation, supported by WFUV
Special Guest: Vera Sola
Returning to the Music Hall in a special duo performance, The Milk Carton Kids celebrate the release of their new album "All the Things That I Did and All the Things That I Didn't Do". Kenneth Pattengale and Joey Ryan are a duo hailing from Eagle Rock, California, United States who formed in 2011. The band have released three albums of delicate, close harmony Americana and have toured with everyone from The Lumineers to Old Crow Medicine Show as a result.